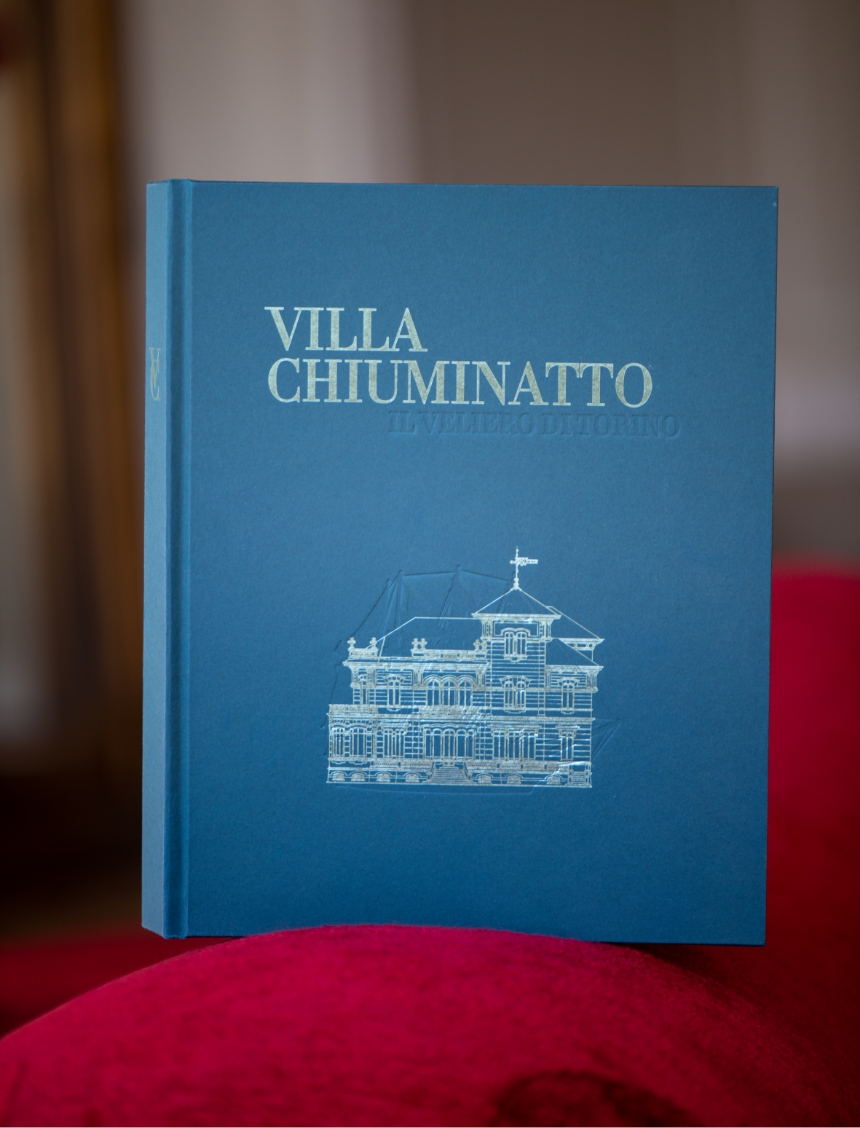 The idea for a book dedicated to the past, present and future of Villa Chiuminatto came up in early 2020, by will of the Buono Lopera family. The history of this splendid building had been lost for decades: Maribel and Stefano Buono decided to rediscover it and, in November 2021, after researching at length and arranging the sources they were able to collect, they published the first edition of the book – followed by a second and third edition, as well as an English version.
Villa Chiuminatto's story is also, in part, the story of the distinguished neighborhood where it was built: Turin's Crocetta, which is the focus of an entire chapter in the book, written thanks to testimonials from the members of the Crosëtta community. In addition, the book deals with the different "identities" of the Villa, which also served as a movie set.
This book pays homage to the Villa, to its past history so it cannot be forgotten again, and to the present it has just begun living.
The Villa has often been compared to a sailing ship, both due to its creaky hardwood floors – which are perfectly preserved and make visitors feel as if they were walking around an ancient vessel – and because of its white architectural features, jutting out like sails swollen by the wind. Architect Cristina Alemani, co-founder with M.F. Andreta of the Studio archi 2 firm which carried out the recent renovation, has commented she felt like she was embarking on this early 1900s' Villa with the goal of ferrying it into the 21st century, preserving its structure and historical integrity.
The Villa is indeed a majestic sailing ship, with striking bow windows reminiscent of the windows in the large cabins aft of old galleons, and a large statue placed above the main entrance, just like a figurehead.
A place that emerges from the past and has become home to an idea for the future.
So, get on board and prepare to ride the waves: the journey has just begun!
Indiana Jones meets Jo March
"If I had to briefly describe this book, I would define it as the outcome of an exciting journey in search of clues from the past, like one of Indiana Jones's adventures, mixed with the narrative work required to unravel the stories that emerged as I went on, with the passion for writing one might associate with Jo March.
The history of Villa Chiuminatto was basically unknown, and to shed light on it I had to go back in time, from one family of owners to the next, starting from the most recent to the grandchildren of the man who had it built and owned it first, Commander Giacomo Chiuminatto. Dusty archives, old newspaper articles, mysteries to be solved and fragments of stories told by a distant descendant were the main ingredients in my investigation. Like small breadcrumbs, every trace was picked up and recovered from oblivion, allowing me to piece back together the story of this Villa and of every family who lived in it.
In untangling this story, it was crucial to always keep in mind I was writing about the lives of families who really existed; therefore, I tried to report the testimonials I collected with a confidential and respectful tone, so as to allow great grandchildren to feel the tenderness of memories, and readers the pleasure of empathy."
Eleonora Innocenti Sedili